Make the most of the Rugby League World Cup 2021 marketplace
Calling our friends in the North!
If you have holiday accommodation in the host destinations and surrounding areas, make sure you give yourselves the best opportunity to sell your availability via the official RLWC2021 Squad Trips online platform.
Squad Trips provides fans with a one-stop platform for their RLWC2021 official ticketing, accommodation and leisure needs. It will connect thousands of tourism suppliers from across RLWC2021 host towns, cities and surrounding areas.
Between 1st January and 21st March 2021, the only way to buy tickets is via the Squad Trips pages where to buy a ticket fans must also make an accommodation, attraction or activity purchase.
 
Sign up with Anytime to automate your availability on the Squad Trips platform using our TXGB connection
"Anytime is all about innovation so we are really excited to play a part in this new wave of fan travel through our connectivity," says Vanessa Glossop, Communications Director of Anytime. 
"If you have holiday accommodation in the RLWC2021 localised areas, there is no better time to get signed up with our booking technology to maximise sales of your availability during this big event. Connecting to TXGB is the only way to get your accommodation in front of the thousands of fans booking tickets for RLWC2021 matches. But even before and beyond the rugby, Anytime and TXGB can work together to give you more exposure to holidaymakers looking for regional experiences through local DMOs – particularly as we emerge from a life under Covid-19 restrictions."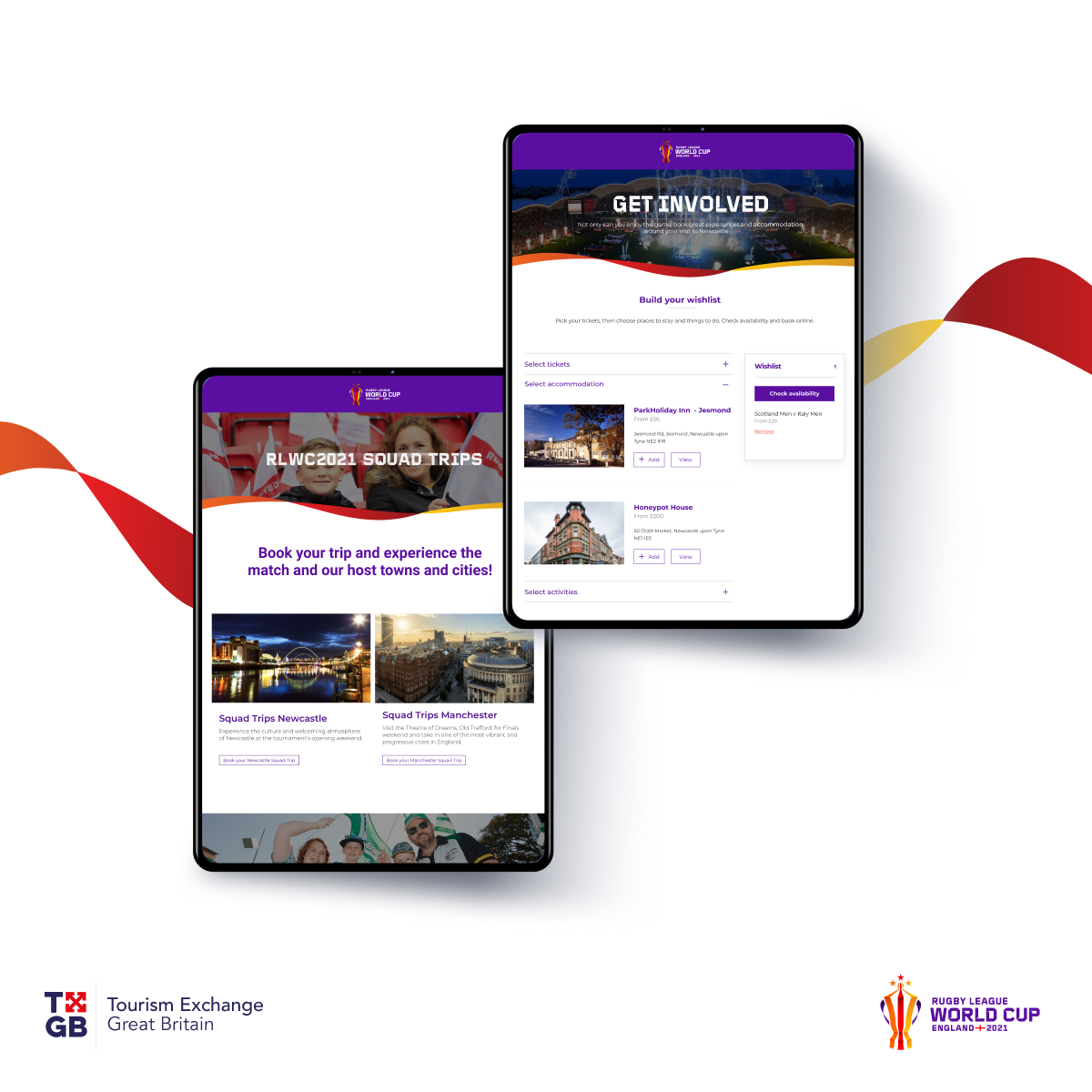 What is TXGB?

 
TXGB (Tourism Exchange Great Britain) was developed by VisitEngland in partnership with technology partners Rainmaker and V3 in 2019, to allow tourism businesses to broaden their distribution in an instantly bookable way. The collaboration with RLWC2021 is the first dedicated channel within TXGB for a large-scale sports event.
James Berzins, TXGB Director said: "We're delighted to support RLWC2021 in their mission to maximise the impact that the tournament has on the local visitor economies, within each of the host destinations. This fits well with our purpose, to unlock the full potential of the tourism sector. The "Squad Trips" channel will help suppliers generate business in the run up, and during, the tournament and it will also leave a lasting legacy of digitally enabled and distributed tourism products in the regions of England. 
"TXGB has provided the technical infrastructure to make this innovative approach to fan travel a reality, and we should also applaud the forward thinking of RLWC2021 and the hard work that the host regions are putting in to engage businesses."
Jonathan Neill, RLWC2021 Commercial Director said: "Squad Trips provides an efficient and valuable platform to the thousands of fans wanting to attend matches at Rugby League World Cup 2021, whilst also supporting and celebrating the tourism sector in our host towns and cities".
"We want to play a part in the recovery of the sector moving forward, provide positive social impacts within our communities, and help drive tourism across England. With over 80% of RLWC2021 matches being played in the Northern Powerhouse, 'Squad Trips' will help drive value and volume across the country and create memorable experiences and engagement for our fans." 
Which are the host locations?
Bolton, Coventry, Doncaster, Hull, Kirklees, Leeds, Liverpool, London, Manchester, Newcastle, Sheffield, Tees Valley, Trafford, Warrington, Wigan & Leigh, St. Helen's and York. 
Interested in getting involved?