Demand is riding high
As the summer approaches, it's becoming increasingly clear that the appetite for travel and domestic getaways in the UK is at an all-time high.
According to the current travel allowance, UK residents can travel freely between England, Scotland and Wales. Travel within the borders of Northern Ireland is also allowed. Members of the same household or social bubble can stay in self-contained accommodations – including holiday homes and caravans.
As a result, many families are looking to escape into the countryside, explore the great outdoors, and spend time together in a safe, socially distanced way.
OTAs that offer outdoor rentals have been seeing this trend for the past year. For example, Pitchup, Europe's leading booking site for campsites and holiday parks, hit record numbers in bookings last summer and has continued to see unprecedented interest in outdoor rentals since. 
This is great news for everyone in the outdoor accommodations sector. But how can property managers take advantage of this sudden increase in demand?
In this blog post, you'll find out how technology can help you differentiate your business, stand out from the crowd and beat your competition at the "revenge travel" game this summer.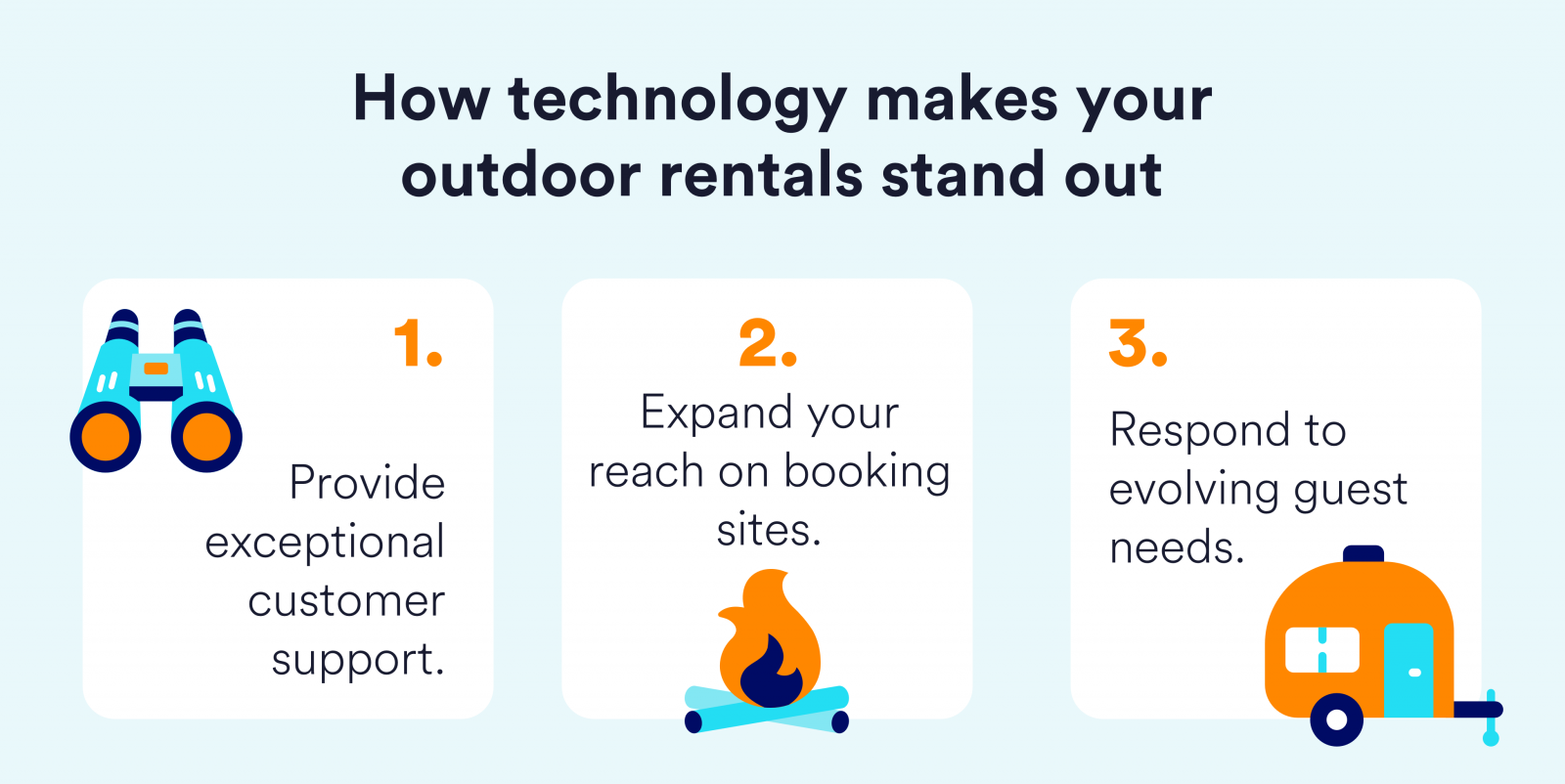 How can technology help your property management business stand out?
An increase in demand comes with an increase in competition. Just like guests who've never considered outdoor rentals before are now exploring new ways to stay, property managers who've never managed outdoor properties are now looking to get a slice of the cake. Consequently, you need every advantage you can get to stand out from the crowd.
One way to differentiate your outdoor rental business is to build a tech stack that is specifically designed for managers of outdoor properties, including RV parks, holiday parks, camping and glamping sites. 
Anytime offers a booking management solution that's tailored to the needs of holiday park managers. And, thanks to our connection with the Rentals United vacation rental channel manager, we've got marketing and distribution covered too. 
Let's see how such a tech stack can help you gain a competitive advantage this summer.
1. Provide exceptional customer support
In the outdoor accommodation market, the level of customer support you provide can make or break your business. The reason is that outdoor bookings get amended more often than any other reservations. 
Guests tend to extend their stays, change the dates, add extra guests or decide to hire camping gear at the last minute. To be able to accommodate these changes – and communicate them to the OTAs! – you need to react fast.
By working with a booking management system like Anytime, you can adapt your business to the flexible nature of outdoor bookings and instantly resolve booking management issues. 
Anytime offers the fastest customer support response times in the industry, and we make sure that every guest has an experience that will keep them coming back. 
2. Expand your reach
Another way to stand out from the crowd using technology is to develop a distribution strategy that your competitors can't keep up with. 
In 2021, diversification is key. Listing your outdoor rentals on a variety of booking sites – specialised and non-specialised – allows you to boost the visibility of your listings and reach new audiences. And, since more exposure leads to more bookings, you'll increase your occupancy and your profits.
Anytime integrates with Rentals United, a holiday rental channel manager that allows you to easily advertise your rentals on more than 60 different channels. These include:
OTAs like Airbnb, Vrbo and Booking.com,

Niche listings sites focused on outdoor accommodations like Glamping Hub and Pitchup,

Local channels that attract travellers in a specific country or region,

Metasearch engines like Holidu and HomeToGo that aggregate listings from thousands of websites,

Wholesalers like VacAgent that allow you to expand your distribution to B2B channels and more. 
With Rentals United, you can advertise on as many booking sites as you want from one place, without having to log into each channel's extranet. Additionally, you can enjoy the peace of mind that your calendars are always in sync and your rates automatically updated across all your channels. 
3. Respond to evolving guest needs
As the world around us changes, so do the needs of your guests. New travel trends are starting to emerge, with more and more guests looking for safe, socially-distanced holidays and multi-generational escapes close to nature. 
Working with leading-edge technology providers allows you to respond to these new trends and make sure your business is in keeping with the times. 
Anytime allows you to have clear communication with your guests, operate in line with the latest safety recommendations and even offer booking protection for sickness. This way, you can position yourself as an agile company that's quick to innovate and ready to address your guests' current needs. 
The bottom line
In 2021, using technology to manage and advertise your rentals is a no-brainer. However, building the right tech stack that caters to the specific needs of outdoor rental managers gives you a competitive edge. 
Together, Anytime and Rentals United can enhance your holiday rental business in a way that few other providers can – and we're here to answer any questions you may have.
Book a demo now to see how Anytime works and how it can help you manage your campsite, holiday park, glamping or holiday let business.