Here at Anytime Booking we feel privileged to be supporting some amazing glamping businesses in the UK and abroad by powering their bookings and site management. As we're off to The Glamping Show next week, and we're all in the glamping frame of mind right now at HQ, we'd like to share a snapshot of just some of them.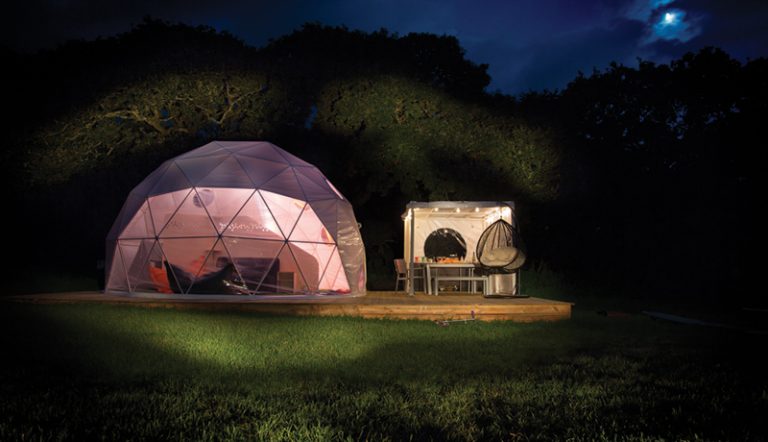 Glisten Camping, www.glistencamping.com
Currently based on two sites in the South of France, these Geodomes marry the great outdoors with the beautiful indoors. Brainchild of a Cornishman, Glisten is camping off the scale. With hanging beds for children, Fatboy bean-bags for all guests, comfy king-size beds, provision of bed-linen, and a covered al fresco dining area with state-of-the-art 'plancha' gas cooker and hanging chair, this is uber-cool camping with a sense of space and style. C'est parti!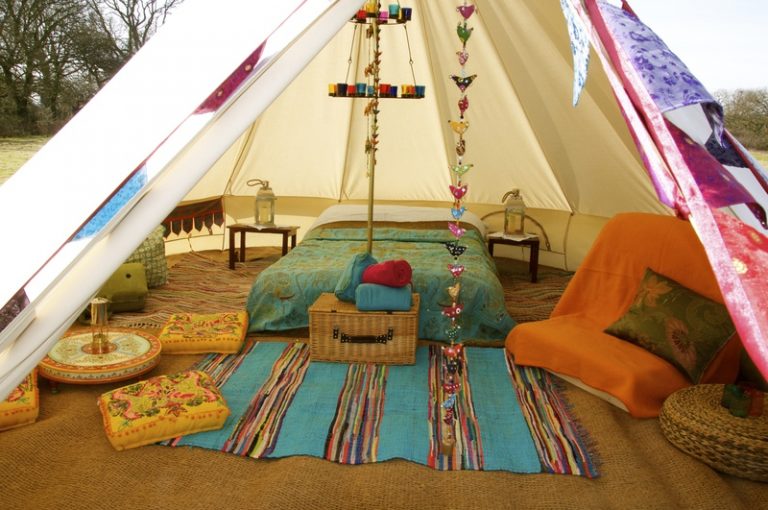 Gooseberry Field, www.gooseberryfieldcampsite.com
Just an hour drive from London, Gooseberry Field is the perfect tranquil getaway for the stressed-out city dweller! With a range of luxury furnished bell tents or tipis and a shepherd's hut to choose from, this site really is all about unplugging, unwinding and reconnecting with people who make you happy. Even the cooking becomes an adventure, as here, you are encouraged to pick your own herbs and veggies from the gardens and cook by camp-fire, Dutch oven, wood-fired oven or even a smoker. Pack some fresh mackerel!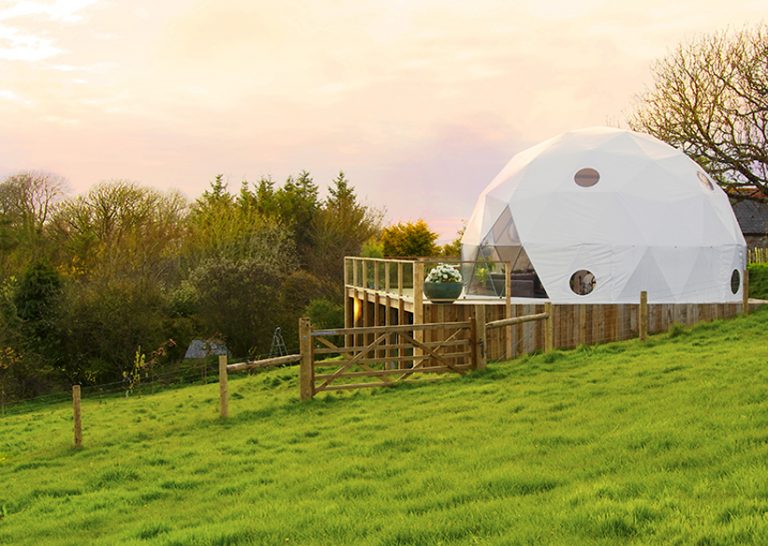 Loveland Farm, www.lovelandcamping.co.uk
An inspiring and unique place to holiday, this site is into green technologies and sustainability. Only a mile from the North Devon coast, it was voted one of the 'Top 10 Glamping Escapes' by Escapism Magazine in 2014. The accommodation is stunning in its modernity and simplicity, yet it is breathtakingly designed. A solution to the busy modern world? We would like to sink into their podded luxury and in one long exhale agree, 'Yessssssss.'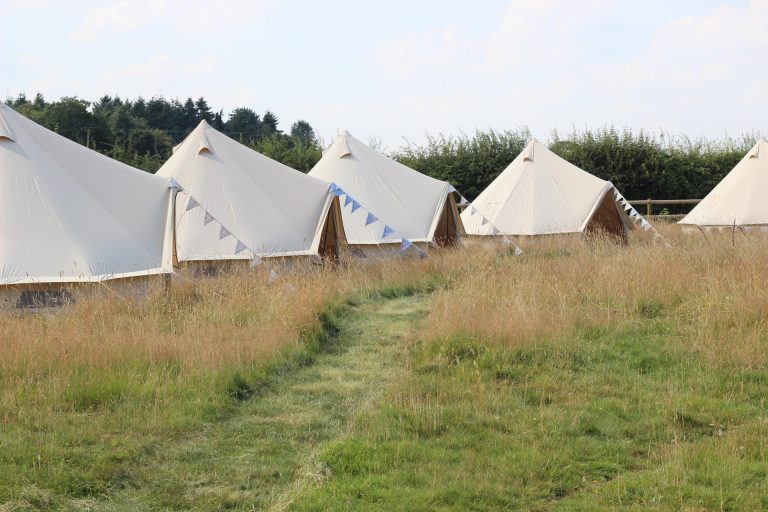 New Forest Bell Tents, www.newforestbelltents.co.uk
This luxury bell tent hire company operates in the New Forest, Hampshire and Dorset. They pitch your bell tent where you want it, when you want it, give it the comforts of home inside, and then dismantle it all after your stay – talk about taking the hassle and the ground-mats out of camping! New Forest Bell Tents even cater for weddings and can set up a fairy-lit 'village' complete with chill-out tent. Anyone getting married or planning to renew their vows?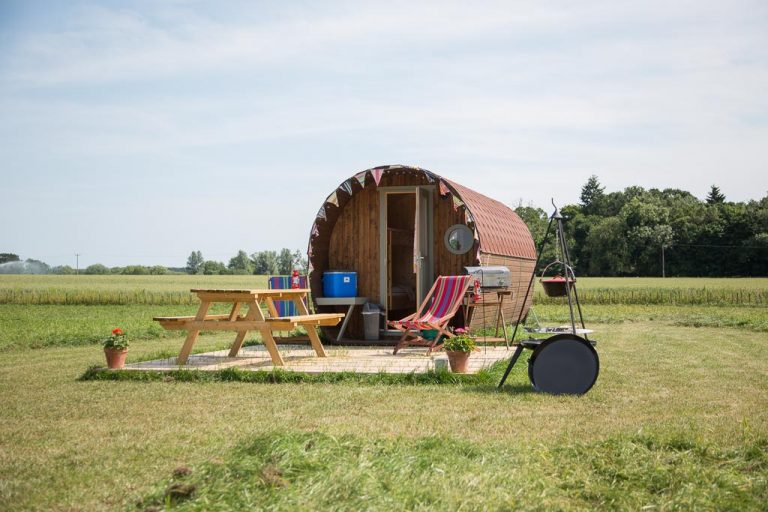 Riddlesworth Park, www.riddlesworthglamping.co.uk
This site has a warm, homely, retro feel. Your snail pod or bell tent is pitched on its own section of decking and surrounded by blade after blade after blade of grass. The beauty of glamping is that it usually comes hand-in-hand with glorious space, flushing loos and hot showers. Here you will not be disappointed. As well as not being squashed up next to your neighbour, you will be offered a wonderful breakfast hamper including fresh eggs, bacon, sausages and all manner of local produce. Breakfast under a never-ending Norfolk sky, just what the stress-buster ordered.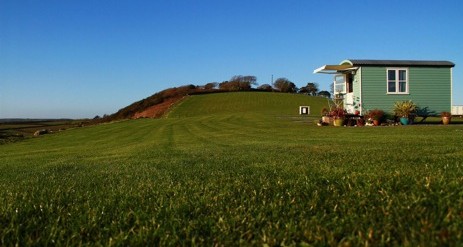 Scamper Holidays, www.scamperholidays.co.uk
Featured in '10 Best British Breaks' in Coast Magazine 2015, Scamper evokes feelings of nostalgia and true excitement for a holiday with a difference. You can opt to stay in a brightly painted shepherd's hut, timber tent, tiki-van or tiki-lodge with a stunning view. Or you can go all out and experience a quirky accommodation mix by hiring a campervan to provide cooking facilities and a retro sleeping area, together with a tiki-hut, dome or air-tent joined by a decking pontoon to provide a cosy living area with separate sleeping facilities. Imagine the holiday snaps! The Gower Peninsula has always been beautiful, but now it is glampingly gorgeous.