One thing you can do this Autumn is review your website. Is it as good as your accommodation?
There's no escaping the fact that more than ever, we are living in a digital world and that if you want to run a successful business, a well-designed website is a crucial component. 
The pandemic has really driven a shift to more online behaviour and as such we've seen some real innovation and change through the businesses we support – from new websites and introduction of services like digital guidebooks, to businesses really exploring their USPs, finding their own voices, and pushing forward with rebranding exercises and adoption of more tech partners.
The busy online consumer wants immediacy and has a short attention span – leaving you out in the cold if you have a badly-designed site without integrated online booking capability. 
If you want more traffic, more hype around your brand, more booking conversions and higher occupancy, get yourself the best possible digital presence you can afford to showcase your accommodation business. 
You paint the doors of your cottages, you mow the grass of your campsites, you scrub up your receptions and leave the most amazing welcome hampers for you guests – the same effort needs to be put into your shop window, your website.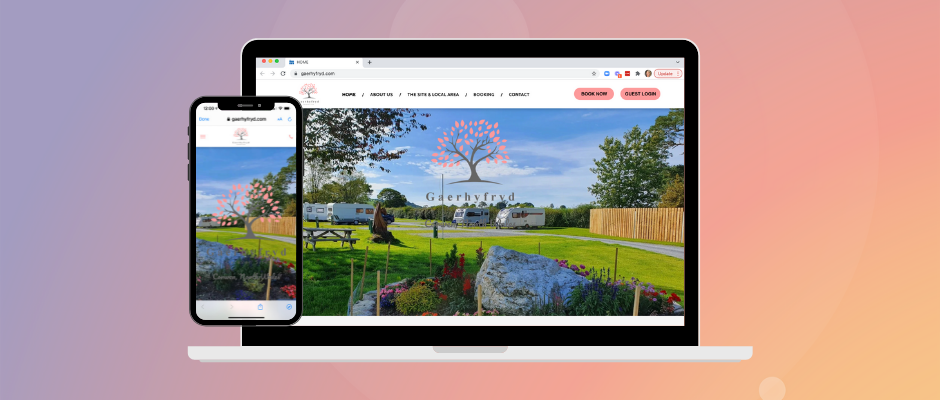 How can our website technology help your business stand out?
There are many great web developers out there but you may find a website builder tool an easier to use, more affordable option. The designs and results are beautiful, professional and effective.
1.
The quickest, easiest way to get a beautiful website up and running 
Boost reputation and brand awareness quickly. A change like a new website will get you noticed and give you something to share across your social media channels. It will give you the opportunity to become more brand-visible, share your story and stand out in the industry to make an impact. Using the builder is a super fast solution to getting you online as soon as possible.
2. You have complete control over your content
Make your content pop. Use great photographs and your unique tone of voice. Be consistent in order to build brand recognition and trust. Make sure you cover the basics – who are you, where you are and what experience do you offer? You can change the content whenever you like, it's really easy to do and it's always good to keep a website fresh. 
3. No need for technical experience
Our web builder uses drag and drop and big-button functionality.  There's no need to code; you'll be able to move content around, change the fonts and colours, insert photographs, maps and videos, delete or add sections – all at the click of a button or a drag of the mouse. Or you can use one of our pre-designed templates and lean on our in-house frontend developer to help you out. Hosting and site maintenance is all included in your price, so no headache there either!
4.
So much cheaper and faster than using a web developer
As we've already said, there are some great developers out there, and we work with many of them! But if you would like to keep the cost of your new site right down, our web builder is a good choice. A small monthly payment is added to your subscription of the booking system – this includes website hosting and some dedicated support time for any changes or amendments.
5. Integrated with our booking system and your social media
Your new website will come with our inbuilt booking calendars linked to your Anytime Booking account. So you're fully bookable from the start. Use calls to action encouraging visitors to Book Now (the most important call to action there is!) and signpost your visitors to your live-linked social media channels.
6. Easily tap into Anytime partners for marketing and distribution
You don't need to stop at your website and social media channels. Anytime works with multiple partners who can help with your online visibility. Use an array of carefully curated online travel agents (OTAs) to drive more bookings your way or explore partner services like virtual reality (VR) tours, interactive site maps and digital guidebooks to make you really stand out.
7. One team supporting your business's bookability online
Our customer support for the booking software is second to none, you'll hear it, and it's true. Imagine that support extending to your website too. One team and one place to deal with all your bookability. It will make a massive difference to your campsite, holiday park, motorhome hire, glamping or holiday let business. 
Ready to talk some more?
Book a call now to discuss adopting an Anytime website and booking system combo!