The width of a car, low and easy to tow, the Gidget is an awesome piece of freedom-kit.
Approaching an incy-wincy bridge? No problem. The Gidget just follows you wherever you go without you worrying about how wide it is, or how heavy it is.
Designed by an impressive Australian team, the Gidget takes teardrop camping to the next level with the incorporation of a patented slide-out system that immediately doubles the accommodation space.
It has been in the press quite a bit lately, with the unhelpful tagline of 'cramping'. Really? It's the opposite of cramping. Cramping is being stuck in a telephone box with a bunch of old aunties. With the Gidget you can go anywhere and pitch under the biggest sky, on the biggest wide-open patch of the great outdoors and breathe in. Just what are you going to do with all that space?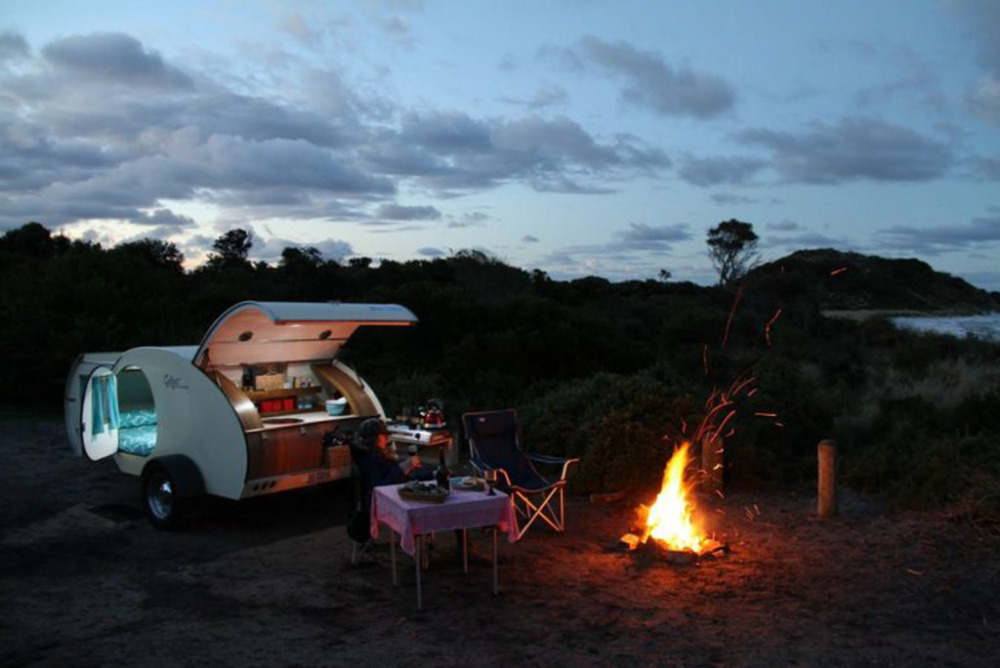 Once you slide out the Gidget to its full extension, you have an area of complete relaxation, whether in the sitting or sleeping configuration. With the fab windows and overhead skylight, the outdoors just begs to come in, but with plenty of space for everybody to sit smugly in this inspired little den, that just isn't a problem.
The interior actually houses a queen-sized bed, sheer luxury for most glampers, and the back of the camper flips up to reveal a gorgeous polished timber-clad full kitchen, complete with a two burners, a sink, fridge drawer, pantry and utility drawers. This little teardrop just keeps giving – it also incorporates a fold-up table and a swivelling entertainment console complete with TV, DVD and stereo that can rotate to the outside kitchen area from the indoor living space.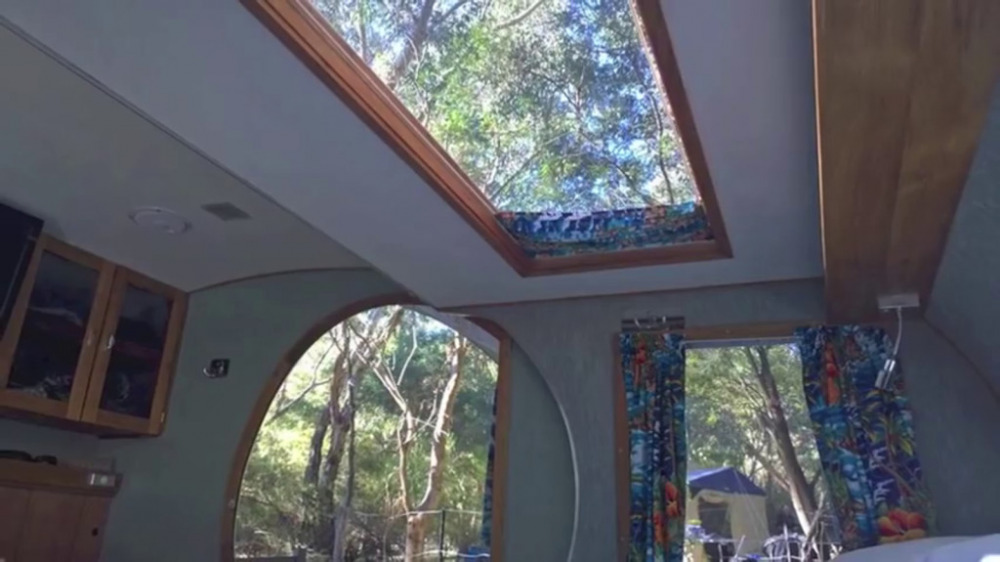 Yet the Gidget isn't designed to be just cool, or cute. It's also very, very clever. It's a humming bundle of power with a 110W fixed roof solar power system and deep battery cycle. With an 80 litre freshwater and 40 litre waste tank, a bespoke satellite dish in the design-pipeline and storage in every conceivable nook and cranny, the Gidget certainly has brains.
Huge hats off to this Australian team. Small the Gidget may be, but it is absolutely, definitely, perfectly formed.
Camping? Glamping? Cramping? The Gidget sits in a category all of its own.